Absence of Malice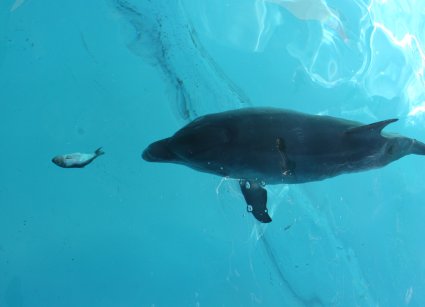 Rebuilding on Sand
I am constantly astonished, not to say irritated, at the way bad arguments keep coming back, no matter how often they are refuted. More than 200 years after the English philosopher and theologian William Paley exposed the weakness of the "animals eat other animals, so why shouldn't we eat them?" argument, some [people] still trot out the same old excuse for eating meat.
Paley gave one good reason why the analogy doesn't work: we are omnivores, and can do without meat; those animals that eat meat need to do so to survive. This is certainly true in most cases; a few exceptions may be found, animals that could survive without meat, but eat it occasionally--chimpanzees, for example--but they are scarcely the species we usually find on our dinner tables.
Thinking about those animals which we do eat gives us another reason for rejecting the "animals eat other animals" argument. In most cases, the animals we eat don't eat other animals anyway. All the mammals routinely eaten in the Western world are herbivores: cattle, sheep, pigs, and (in France) horses. Dogs are eaten in parts of Asia, but those who use [the] argument are generally not interested in defending that practice. Chickens and turkeys are largely vegetarian, though they do eat worms and insects if they can get hold of them, which is not very likely in modern factory farms. The only truly carnivorous animals which play a significant role in the standard Western diet are fish.
But there is a third reason why the fact that animals eat other animals cannot serve as an excuse for our eating them. It is a curious fact that those who use the behavior of carnivorous animals as a justification for meat-eating are also invariably the first to insist on the immense gulf that exists between human beings and nonhuman animals. They will claim reason, self-awareness, language, autonomy and a moral sense for our own species, and deny it to all other animals, who, they say, act on the basis of rigid instinct alone. Now I don't really believe that this gulf is anywhere near as wide as it is often claimed to be. There is a good deal more that is instinctive in human behavior, and a good deal less in the behavior of nonhuman animals, than many suppose. Nevertheless, we must recognize that, as far as we can tell, we are the only species capable of reflecting on the morality of our actions, and acting on a decision made as a result of such reflection. Perhaps chimpanzees or dolphins do this, too, but the evidence is scanty; and when it comes to lions and tigers, there is no evidence at all for moral choices based on reflection.
Following Nature?
So why, then, would anyone imagine that because animals eat other animals, we may eat them? When you think about it, the argument is laughable. We have the capacity for reflection and choice, they do not. So we should imitate them? Why on earth should we do that? Are we to look for models of behavior to those who have a more limited understanding than we ourselves do?
Perhaps the claim is a different one. Perhaps somewhere in the background is lurking that hollow foundation for so many spurious arguments, an appeal to what is "natural." Is the idea that since animals eat other animals, it is natural to eat other animals, and so we may do the same?
This is a strange argument, for why should we imagine that our nature is more like that of the carnivorous tiger than the vegetarian gorilla, or the virtually vegetarian chimpanzee? But quite apart from this objection, we should be wary of appeals to "nature" in ethical arguments. I am as keen on "natural foods" as anyone. By that, I mean those foods which have not been refined, flavored, colored or otherwise transformed by methods which ingeniously remove all their flavor, texture and food value. But while nature may often "know best," we must use our own judgment in deciding when to follow nature. We have the capacity to reason about what it is best to do. We should use the capacities we have (if you are really keen on appeals to "nature," you could say that it is natural for us to do so).
"An Eye for an Eye Makes the Whole World Blind"
There is yet another way to take the "animals eat other animals" argument. It is perhaps not one about a model of behavior to follow, but about what animals are entitled to, or deserve, if they behave in a certain way. But this line of thought is no better than any of the others. Even with adults, we no longer follow the rule of "an eye for an eye, a tooth for a tooth." Think how much worse it would be to apply such a rule to small children who seriously injure or even kill other children, because they do not understand the significance of what they are doing. That is exactly how bad it is to apply the rule to nonhuman animals, who also do not understand the significance of what they are doing.
Wake Up and Smell the Truth
All of these arguments get used, quite frequently, to defend the practice of eating meat. What are we to conclude about such a smorgasbord of bad arguments? I think there is a lesson to be learned from a great American thinker who, in one of his weaker moments, used the argument we have been discussing.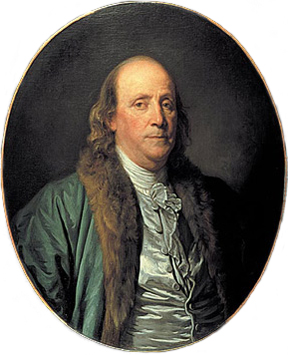 For some years, Benjamin Franklin was a vegetarian because of his ethical concern about the treatment of animals. In his Autobiography, he describes how he reverted to the more conventional diet. He tells us that he was watching some friends fishing, and noticed that some of the fish they caught had other fish in their stomachs. He therefore thought to himself: "If you eat one another, I don't see why we may not eat you." Deep down, however, Franklin was too intelligent to be truly convinced by this argument, for he admits that he reached this conclusion only after the fish was in the frying pan and began to smell "admirably well." He adds that one of the advantages of being a "reasonable creature" is that one can find a reason for whatever one wants to do.
That is the real problem, isn't it? Those who assert that it is not wrong to eat animals because animals eat other animals are not really looking for a sound argument that will justify meat eating. If they were, they would have abandoned this argument long ago, for whichever way you twist it, it remains woefully inadequate. What they are looking for is an excuse--something that they can say to put a veneer of respectability on a practice that--because it involves the suffering and slaughter of billions of sentient creatures merely for, as Paley said, "our pleasure and convenience"--really cannot be given any ethical justification at all. It is the smell of frying fish, or the grilling cow, or the roasting pig--or often just the force of habit, or the fear of appearing to be "odd"--that drives people to mouth such spurious arguments.
What a pity we do not yet live in a society which relishes the taste of freshly-made tofu above that of fish or chicken, and in which it is those who continue to eat the flesh of dead animals who are thought "odd," or worse. Then the bad arguments might finally cease to be heard.
--Peter Singer
Reprinted from the Feb. 1989 issue of The Animals' Voice Magazine www.animalsvoice.com
and the Summer 1989 issue of The Friendly Vegetarian
Subheadings Added